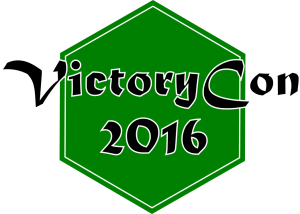 VictoryCon 2016 is the first (hopefully annual) convention held at Victory Pointe in Pittsburgh's South Side. We'd love to see you! Register at Warhorn!
Date June 25th-26th
Cost $30 for the weekend (pre-registration)
Location Victory Pointe
1113 East Carson Street
Pittsburgh, PA. 15203

GM Rewards
GM 1 slot and get a Suli race boon!
GM 2 slots and get 50% off your admission fee!
Description
Andrew Hoskins and Quinn Shannon are hosting VictoryCon at Victory Pointe Gaming Cafe on the South Side in Pittsburgh. Right now we just have PFS games, but we're hoping to get the Shadowrun and Adventure League folks to join us. This is the first year for this little convention, so please come and show your support. If successful, we'll look to run this convention every year.
We've added lower level and evergreen scenarios, so feel free to sign up to GM, even if its your first time.
You admission fee also gives you a 10% discount on food and drinks, as well as unlimited arcade and board game play.
Parking
On-street parking is available, of course, and on Sunday parking at the bank should be available.
We're working on getting more details about long-term parking and hope to have that available soon.
Hotels
VictoryCon 2016 does not have any event codes or other arrangements with hotels in the area. While we don't have any specific recommendations, there are hotels within walking distance. The closest appears to be a Holiday Inn Express & Suites.
VictoryCon Updates